Automatic Tapping Machine
Product ID: CAT-8, CAT-8B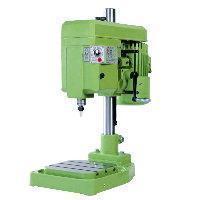 Automatic Tapping Machine




Features:
Structure of stroke adjustmant

CAT-8 uses stroke adjustment pawls to touch start micro switch controls regular reverse rotation.
It will have operators control tapping depth of blind holes more precisely.

Selecting switch & urgent reverse botton

Easily operate any pattern of Inching, Single cycle & Repeat cycle by using the safe, reliable, durable 3-phase selection switch with CE mark imported from Europe.
Emergency reverse button can be use to stop spindle feeding, reverse spindle, when test operation in Inching pattern or even in an emergency situation.

Main switch

High quality Motor Protector with CE mark imported from Europe can interrupt main power of CAT-8 in the shortest time to protect motors and its user, it also protect from overloaded and short circuit.

Counter (Optional device)

You can purchase a set of Japan-made counter for CAT-8 in trace working quantity.

Specially made motor with high efficiency

CAT-8 equip with specially made efficient motor and with 2,000rpm (60Hz) high spindle speed can be operated about 60 cycle per minute.
If the operation temperature is too high, the motor will shout down automatically.
Once the temperature cools down, the motor will start operation again in order to protect motor.

more