Automatic Tapping Machine
Product ID: NAT-32,NAT-32B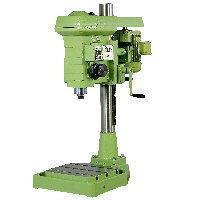 Features:
Pitch gear tool feed, one circle feed, one pitch--this is a unique feature of the CHEN FWA Precise Tapping Machine, which has following merits:

One circle feed, one pitch, working piece will not rotate without adding pressure or clamping device.
Both unfamiliar and skilled workers can operate this machine well, which is helpful to increase efficiency and quality workmanship.
Spindle pulley will slip and spindle will stop when tap meets resistance or machine reaches overload. This situation is controlled by a safety clutch, which can reduce the force from cutting and torque of tap and protect tap from being damaged.
All automatic tapping machines can be mounted with multiple spindle heads that can increase productivity and produce unique whole-screw threading.
Upward Multi-Spindle Auto Tapping Machine increase production rate with robot combination.

more